The front end had the wide opening similar to the earliest Torino and the hood was also similar. The roofline and quarter panels, as well as the back end, had hints of early 1970's Torinos, but only "hints". This car was about one and a half foot shorter than the Torino and certainly a lot sexier. The scoops in the front fenders were certainly unique to the XA Falcon.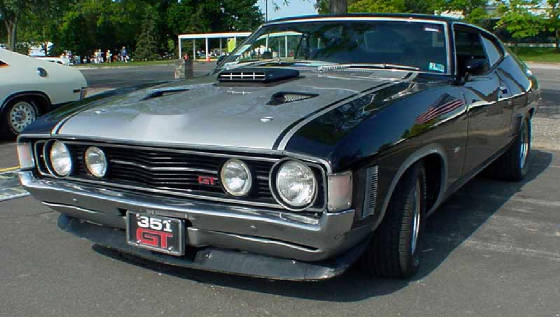 The car in the picture above belongs to Tom Nuss of Pennsylvania. Tom's car is an XA Falcon GT clone. He started out with a very rough car, as he was to discover, and made it into an absolutely beautiful machine. The car started out as a Falcon 500 and Tom installed all the factory GT components from a donor car. For all intents and purposes his car is a Falcon GT. Only his VIN plate gives away it's origin. I've seen his car in person and it is what people dream of owning.
Here are some of the pages from Tom's website where you can find all kinds of information on his car, Australian Falcons, differences between the Torino, Aussie Falcon, and Mustang, and much more info! Thanks a lot Tom!